Working on offshore wind farms
Offshore & Wind farms
During the 70's and 80's of last century the world searched, explored and produced oil below our seas and oceans. Due to the energy transition from oil to sustainable energy, the same locations are under construction again. Instead of building oil production platforms, new wind turbines and wind parks are build.
Experiences gained during the exploration of oil are used nowadays for construction of (foundations of) wind turbines and wind parks.
The by Allnamics developed techniques are used in a modern and high tech way for the construction of wind parks at sea. The knowledge and experience of Allnamics are used for the foundation design and foundation works, for quality control and load testing. Allnamics has specialised in the behaviour of monopiles during installation.
For more information on the possibilities Allnamics Offshore Services can offer for your project, contact Joost Bakker at bakker@allnamics.eu.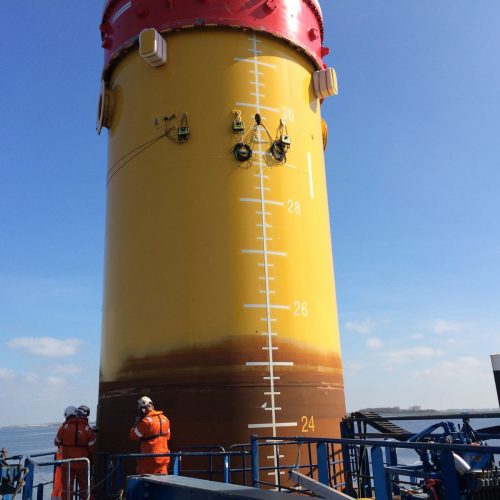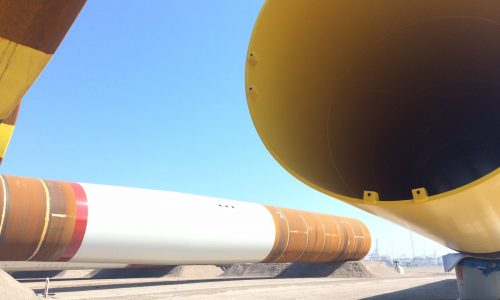 MonoPiles
Allnamics has been involved in many projects where monopiles formed the foundation of the offshore structures (wind turbines and platforms). Based on the knowledge and experience with this special type of foundations, Allnamics became a specialised consultant for the installation of large diameter monopiles (reference OctaKong 'Vibratory driving prediction (AllWave-VDP) Hong Kong-Zhuhai-Macau Bridge Project'). Based on their knowledge as well as on their major offshore experience, Allnamics developed AllWave-PDP and AllWave-VDP software for Pile Driving Prediction and Vibratory Driving Prediction. In these AllWave software applications, monopiles can be modelled and the pile installation simulated.
Want to know more? Ask Joost Bakker at bakker@allnamics.eu.
Offshore Predictions Vibratory Hammer
The use of offshore vibratory hammers is nowadays not limited anymore to just positioning and setup of the pile. Where recently a pile driving hammer (hydraulic or steam driven) was used to drive the pile or monopile to its final penetration depth, the vibratory hammer is more and more used up to final penetration.
Like the Pile Driving Predictions for impacts hammers (PDP), simulations can be made for offshore foundation piles and monopiles installed by means of a vibratory hammer. Comparable results as with the PDP, one can study the efficiency of a vibratory hammer, its maximum penetration or refusal depth, the maximum stresses and the amount of fatigue. Using the AllWave-VDP Expert software and a large database of predicted and measured results, leads to reliable prediction results.
A Vibratory Driving Predictions lead to cost effects pile design and the application of vibratory hammers. Good preparations, including a vibratory driving prediction, leads to an efficient pile design, including efficient pile driving process, without unexpected troubles.
Reference project: see Octa Kong
For more information about our offshore vibratory driving predictions please contact Nicolas Nicomoscosomazza@allnamics.eu or Peter Middendorp@allnamics.eu
Fatigue analysis, Prediction and Monitoring
Over lifetime, a offshore foundation pile or monopile is continuously loaded by dynamic forces. Wind, current and waves load the pile dynamically, and lead to fatigue of the steel of the foundation. Fatigue is therefore an important design factor.
During driving of the offshore foundation pile or monopile, many stress variations lead to fatigue as well. Therefore analysis of the fatigue level during installation of piles is important.
Allnamics can perform this fatigue analysis in two ways:
1. By prediction of the stress levels during installation by pile driving prediction for impact hammer (PDP) or vibratory hammer (VDP) and its effect on the fatigue of the monopile
2. By measuring the real stress levels and its changes during pile driving, by performing PDA or VDA during installation. For measurements at certain spots additional spot monitoring can be applied as well, i.e. at change of diameter or wall thickness, connection crown, welds, etc.
Want to know more? Ask for Joost Bakker@allnamics.eu
Offshore Pile Driving Prediction
Pile Driving Predictions are performed to predict the pile, soil and pile driving hammer behaviour during installation of foundation piles as well as large diameter monopiles. By doing this in advance, during the engineering stage, problems and augmented costs during installation can be avoided. The pile driving hammer must be heavy enough and perform efficiently, to deliver enough energy to install the pile to its designed penetration depth. At the same time, pile stresses during installation should be limited and acceptable. Especially for the dynamically loaded foundations and monopiles of wind turbines fatigue damage is to be considered. The stresses in the piles and monopiles during installation should be limited, leading to acceptable fatigue levels.
By making Pile Driving Predictions using the AllWave-PDP software , answers on this type of questions can be generated by modelling the pile, soil and hammer and simulating the process. For offshore piles and windfarm monopiles (as well as onshore foundation piles, deep foundations and sheet pile walls).
For more information about our offshore pile driving predictions please contact Joost at Bakker@allnamics.eu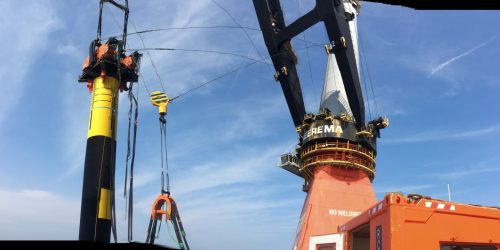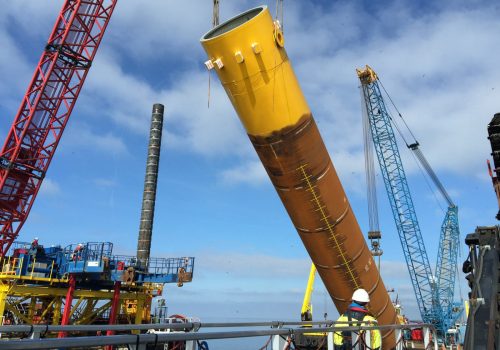 Offshore Pile Driving Monitoring / Pile Driving Analysis (PDM/PDA)
For offshore constructions, one wants to know for sure that the piles have been installed well. That implies measuring during driving PDM or PDA (Pile Driving Monitoring or Pile Driving Analysis) to check the installation records like pile stresses, blow counts and hammer performance. Both for impact hammers as vibratory hammers (VDM, Vibratory Hammer Monitoring VDA Vibratory Hammer Analysis).
After driving, the bearing capacity will increase in time (set-up). By measuring during a redrive, the static pile/soil behaviour and accordingly its static bearing capacity can be obtained by AllWave-DLT Signal Matching (DLT Dynamic Load Testing).
Want to know more? Ask for Joost Bakker@allnamics.eu
Offshore Vibratory Driving Monitoring / Vibratory Driving Analysis (VDM/VDA)
When piles are installed by means of a vibratory hammer, instead of an impact hammer, comparable measurements as with a PDM can be performed.
During Vibratory Driving Monitoring all information during installation are monitored, including performance and behaviour of pile, soil and vibratory hammer. Monitoring of pile stresses, fatigue of the pile material, penetration speed, hammer frequency and efficiency, and more, are part of a total quality control for piles installed with a vibratory hammer. For offshore foundations piles and large diameter monopiles.
Want to know more? Ask for Martijn vanDelft@allnamics.eu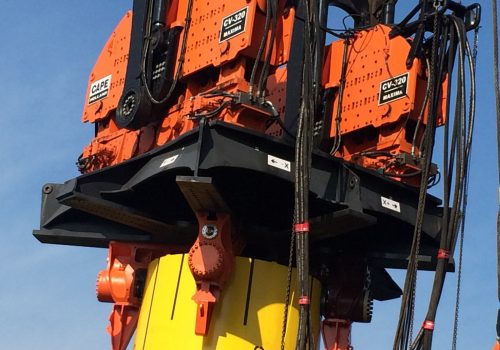 Offshore Dynamic Load Testing (DLT)
After a developing start somewhere mid sixties, it was at the seventies and eighties of last century, that the Dynamic Load Test have been developed as a mature testing method. At that time offshore constructions were build for exploring oil at locations with until then unknown soil conditions. As an equivalent of the Static Load Test, the Dynamics equivalent has positioned itself in the row of pile testing methods.
Allnamics founders are pioneers in this field. It all led to a series of monitoring systems from the FPDS (Foundation Pile Diagnostic System) up to nowadays Allnamics' PDR.
The mean reason to perform Dynamic Load Test is to obtain information about the pile behaviour during (static) loading. Especially for offshore projects were the static load is too high to perform a static load test
Measurements during a redrive, after set-up of the soil, are used to calculate the static behaviour of the foundation pile, using the AllWave-DLT Signal Matching technique.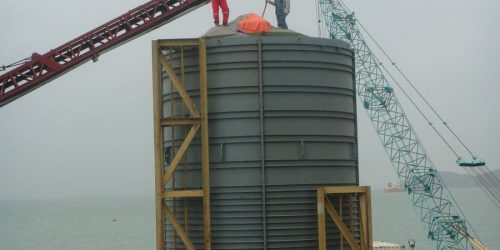 Offshore StatNamic Loading Tests
For the high capacity of offshore foundation piles and monopiles, Allnamics make use of the StatNamic test method. With this test method loads up to 65 MN, and in short time notice up to 150 MN, are possible.
Do you want to know more about StatNamic testing? Contact Peter Middendorp@allnamics.eu
Offshore Monitoring Equipment
The offshore monitoring services are based on the inhouse developed PDR and monitoring sensors. You can make use of this equipment as well. For instance the offshore PDA/DLT set, which consists of:
– PDR, the wireless PDR data acquisition system
– External Wi-Fi antenna
– Sensors for monitoring strain and accelerations. Depending on the application the set can be delivered with UW-sensors for under water measurements, of the standard AW sensors
– Mounting materials
– Allnamics-PDA monitoring software
– AllWave-DLT software for Signal Matching
– Training course
– Allnamics 24/7 support
Want to know more? Contact Joost Bakker@allnamics.eu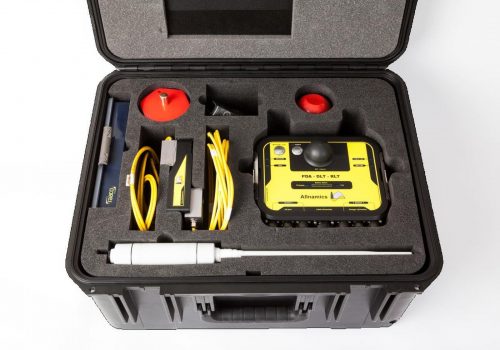 Under Water Monitoring
When under water hammers are used to install the offshore piles, the monitoring sensors need to be waterproof as well. The housing of the sensors need to be able to resist the enormous pressure from water depths of 100 m and more.
Allnamics developed special sensors to resists water depths up to 500 m.
Want to know more? Contact Joost Bakker@allnamics.eu
Offshore Pile Instrumentation
Many more items can be monitored during and after installation of offshore foundation piles: Strain, stresses, forces and displacements, fatigue and more.
Special requirements need special solutions, based on Allnamics standard sensors and monitoring equipment.
For more information about the possibilities that Allnamics Offshore Services can offer for your project? Contact Joost Bakker@allnamics.eu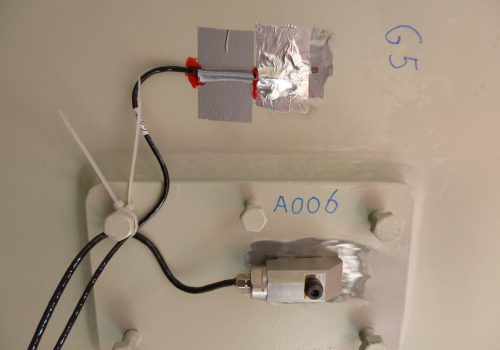 PAPERS EN ARTICLES
Allnamics has made many contributions to international conferences. These publications are available via the Allnamics database. A selection from that: