PDR: Data acquisition recorder
PDR: Data acquisition recorder
Allnamics has developed a state-of-the-art multi-purpose monitoring system: the PDR. Designed by a multi-disciplinary design team, the PDR meets the pile testing requirements on the construction site in every respect.
The multipurpose 4-channel monitoring unit for measuring dynamic events during pile installation, e.g. Pile Driving monitoring (PDA) and Vibratory Driving Monitoring (VDA) and pile testing, e.g. StatRapid, StatNamic, Dynamic Load Testing, as well as Static Load Testing. Depending on the connected intelligent sensors with USID, which are automatically recognized by the PDR, the PDR becomes the heart of every pile test setup.
The PDR communicates wirelessly with the monitoring field computer, avoiding all the cable handling and risk on cable damage. The PDR is even able to use a stand alone data acquisition unit, as all data is store internally as well..
In combination with the easy to use Allnamics monitoring software, this PDR is unique and the standard in pile testing equipment.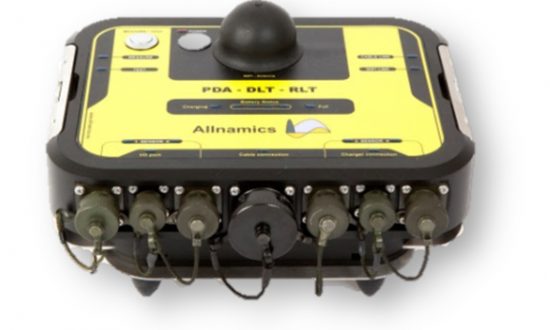 Features PDR
Data acquisition system
High resolution, easy to operate
Option to transmit data wirelessly (Wi-Fi) or by cable, or to use it as a standalone recording device
4 universal channels (for strain, acceleration, velocity, force, displacement, and more)
Intelligent sensors & real-time sensor control
Easy upgrade to 8 universal channel monitoring
Adjustable sampling rate, up to 48 kHz per channel
Option to use one of the 4 channels as a trigger channel or to apply an external trigger
User defined pre-trigger period, buffer size and trigger delay
Resolution 24 bit A/D conversion
EMC, ESD, and ASTM D4945 compliant
Basic unit accuracy< 0.3 % FSO
THD 102 dB
Automatic balancing and signal conditioning
Internal Solid State recorder with 4 GB memory for signal backup and standalone recording
6 hrs operational battery life (up to 30 days standby)
Sleep function for postponed measurements
Class IP66 housing
Fully compatible with intelligent combined transducers (USID)
Robust design with easy magnetic stowaway system for excess sensor cable
Dimensions: 220 x 200 x 100 mm (9 x 8 x 4 in)
Weight: 8 kg (4 lbs)
High speed internet LAN-100, IEEE 802.3, 100 Mb/s, and WiFi IEEE802.11
Dual unit system (SI or inch-pound units)
Multiple operating languages (English, German, Spanish, others on request)
Software programs available for monitoring, processing and reporting
Integrated test box (to automatically check the transducers during mounting)
Data Connection PDR
Default data communication between the PDR and the monitoring computer or laptop is by WiFi. By using the standard of WiFi, every laptop can be sound connected to the PDR. Using an external antenna makes the data connection even at large distances possible and robust.
When WiFi connection is not preferred, the data connection can be made by an ethernet data cable.
The PDR has been designed to be monitoring autonomously (recording mode): without any connection between the monitoring computer, the PDR will monitor standalone and store all monitored signals and data on the internal memory. The content can be read by Allnamics software, using the ethernet cable or by WiFi connection.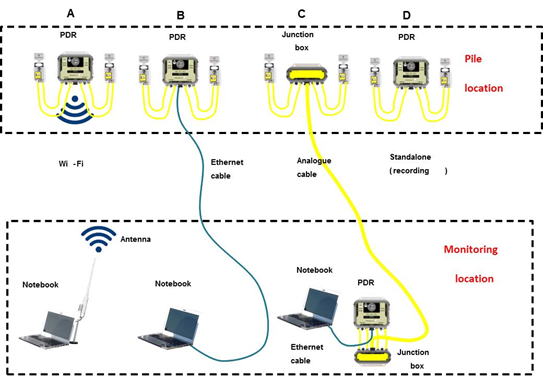 Sleep Mode
Well known are those projects that after mounting sensors and the data unit, the starting of the monitoring is delayed or later. To save battery capacity the PDR can be set in Sleep Mode. When the monitoring commence, the PDR is waking up, until it's set in Sleep Mode again.
Internal Storage of all signals
During any monitoring job, the PDR stores all measured signals internally. Without a connection to a monitoring computer, all measured signals are available for analysis, interpretation and reporting at a later moment.
With a connection to a monitoring computer, the PDR still stores all measured signals on the internal memory. In this way redundancy of monitoring is guaranteed in case of  compromised data communication, computer break down or other unforeseen event.
USID
The PDR detects automatically the connected sensors. Information of the connected sensor, like the Serial Number, Sensor Type and Calibration Factor are derived from the USID of the sensor. This avoids confusion of sensor type and calibration values, etc. Allnamics supplies al their sensor with the USID for automatic sensor detecting.
Applications
The PDR is a multi purpose data acquisition unit, dedicated for pile testing and installation monitoring. Based on the PDR, the following sets are available:
Allnamics ON YOUTUBE
Allnamics PDA, Pile Driving Analysis on open steel piles