AllWave Software
Wave Equation Analysis Program (WEAP)
based on the Method of Characteristics
The AllWave Software Package is a group of software programs for simulating stress wave phenomena in piles. The program simulates several foundation pile issues, like the installation by means of a driving hammer or a vibratory hammer and simulation of pile tests. It includes the following programs:
AllWave-RLT: Rapid Load Testing Simulations, for StatNamic/StatRapid
The software can be ordered as a package or as separate programs. Including the extensive automation options.
Do you want to know more? Ask for Peter Middendorp@allnamics.com or Marcel Bielefeld@allnamics.com
StatRapid is one of the methods of Rapid Load Testing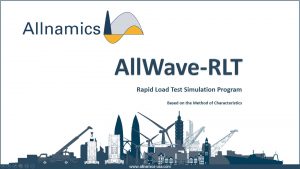 AllWave Software Package 
AllWave is a Wave Equation Program based on the method of characteristics for one dimensional stress waves and offers the possibility to simulate the soil behavior according to various soil models (TNO, Smith and Randolph).
AllWave-PDP and AllWave-VDP are the modules of the AllWave Software Package for onshore and offshore driveability studies for impact and vibratory hammers. AllWave-PDP is dedicated to impact pile driving and AllWave-VDP is developed for vibratory driving.
AllWave-DLT is used for the Signal Matching process on signals from High Strain Dynamic Tests, Dynamic Load Testing or PDA. As a result of this process, the calculated static behavior can be derived from the soil models.
AllWave-RLT simulates Rapid Load Tests, in order to assist in optimizing the test setup.
AllWave-SIT transfers measured low strain dynamic tests, Sonic Integrity Testing (SIT/PIT) to a pile shape (impedance).
Being capable of predicting pile behavior during driving is vital to minimize the risk of early refusal. Early refusal will require remedial actions to be taken in order to reach design depth, with possibly large financial consequences.
AllWave-PDP is the tool to simulate the pile driving process, prior to execution on site. Important information about pile stresses, expected blow counts, soil and hammer behavior is obtained. With the results of a AllWave-PDP driveability study the pile driving process can be optimized. And as a basis for fatigue analyse of offshore wind foundations.
AllWave-VDP is for the application of vibratory ahhmers, like AllWave-PDP is for impacct hammers. AllWave-VDP enables the modelling of the vibratory hammer, the pile, and soil resistance in a realistic way.
Accurate input values for all these parameters can be obtained from the database integrated in the program, which contains not only models for hammers and eccenter mass, but also static and dynamic parameters for a variety of soils.
During a High Strain Dynamic Test (DLT/PDA), signals are obtained which has to be transferred to the static behavior of the tested pile. During the AllWave-DLT Signal Matching process the soil model is adjusted until a good match between a calculated and the measured upward travelling wave signal is obtained. The measured upward travelling wave contains information on the interaction between soil and pile shaft and toe.
The AllWave-DLT Signal Matching process is supported by several utilities, including AutoMatching support.
Allwave-RLT: Rapid Load Testing Simulations
The Rapid Load Test, i.e. StatNamic and StatRapid, is a quick maintained quasi-static load test. In order to optimize the test setup for Rapid Load Tests, AllWave-RLT has been developed. The test is simulated by the software, in order to control and optimize the behavior of pile, soil and test setup.
AllWave-SIT is one of the modules of the AllWave Stress Wave Simulation Software Package. AllWave-SIT is the software programs for the quantitative interpretation of SIT (Sonic Integrity Test) signals. As a result the pile shape (impedance) is derived from measured SIT or PIT signals.

Allnamics ON YOUTUBE
Allnamics Geotechnical & Pile Testing Experts