Sonic Integrity Testing (SIT or PIT)
Sonic Integrity Testing (SIT/PIT)
The Sonic Integrity Testing or Low Strain Impact Testing from Allnamics is a powerful tool for determining the integrity of deep foundations and pile shafts.
In accordance with ASTM D5882, EuroCode, and other national codes for low strain impact testing, i.e. EA Pfähle 2012, CUR-Aanbeveling 109:2013
Key characteristics
SIT-USB can be connected to any laptop or pc with a USB port
Efficiently reveals potential defects (i.e. major cracks, necking, soil inclusions)
Pile length indication
Easy to use software for measuring, interpretation, and reporting
Rugged and waterproof pile sensor
High-quality hardware for maximum quality measurements to detect also smaller defects
Supported by the Allnamics team with more than 50 years of experience
Customer Support
Extensive reporting options to PDF and MS Word format
In compliance with national and international standards (ASTM D5882, EuroCode, etc.)
The method of Sonic Integrity Testing (SIT/PIT)  
PIle Integrity Testing (PIT) or Low Strain Impact Testing (LSIT) has been developed as Sonic Integrity Testing SIT) in the Netherlands in the 1960s. It's a fast and cost-effective testing method to determine defects in piles, to check the condition of deep foundation elements (as-built versus designed or desired). Major cracks, necking, and soil inclusions can be determined and indicate the pile length.
Allnamics' PDR is the wireless data acquisition unit for Static, Rapid and Dynamic Load Testing
Wireless monitoring avoids cable handling during onshore and offshore Dynamic Load Testing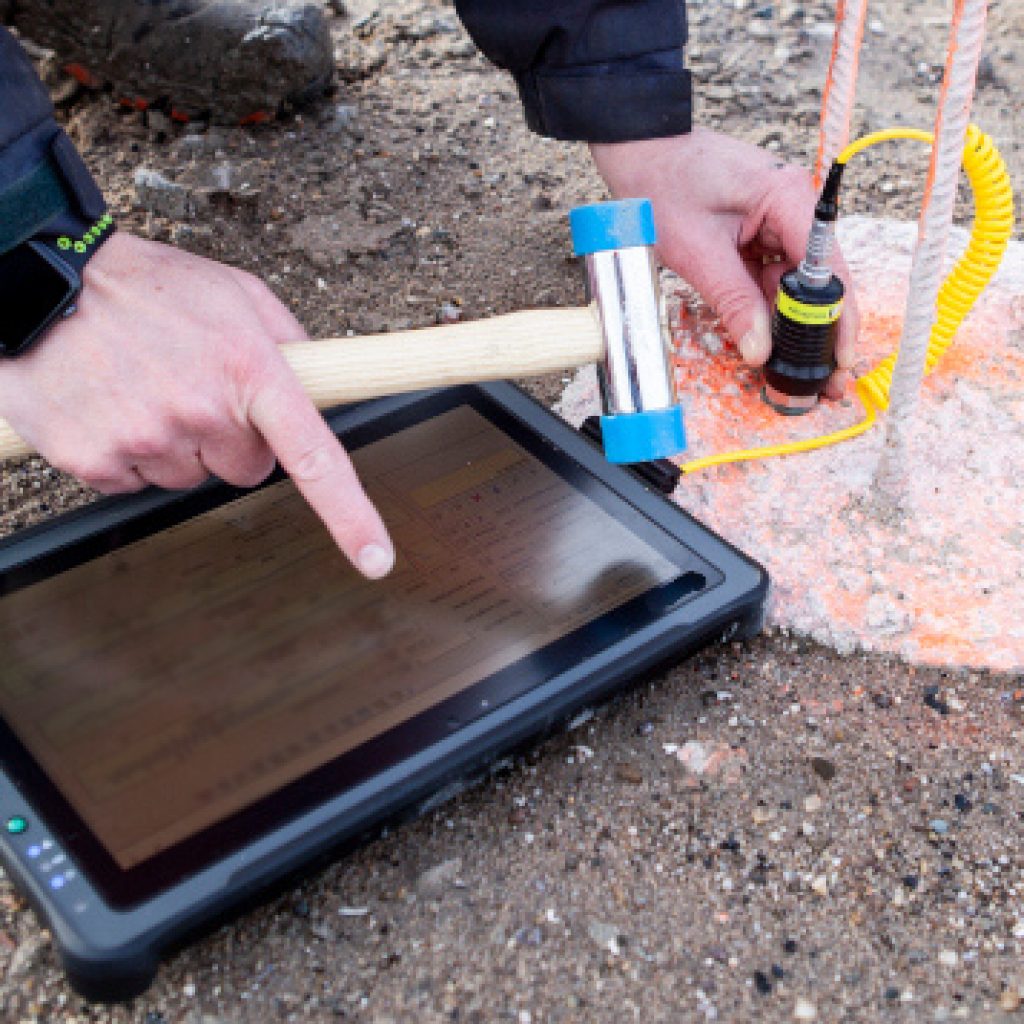 Allnamics-SIT software gives a clear presentation of the measured signals, as well during testing as in an automated generated report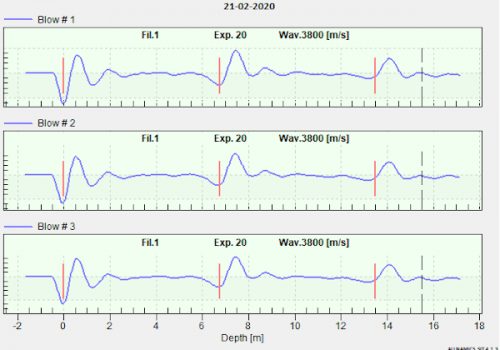 SIT-USB designed by the inventors
For low strain testing of concrete piles, to determine the integrity of piles, Allnamics engineers have developed their first SIT equipment back in the 1960s. Based on the gained experience, both in developing equipment and more in performing tests and interpretation of test results, Allnamics has developed the state-of-the-art Pile Integrity Testing monitoring system which can be used in combination with the PDR  (SIT-PDR) and with any laptop computer, using the USB port (SIT-USB). With the advanced sensor, high-quality sonic measurements can be made.
The professional SIT system is fully capable of the testing of deep foundations and foundation piles to efficiently reveal potential defects and indicates pile length.
The powerful and easy-to-use software enables analysis of the results directly on site. Signals and results can be shared with colleagues and the office.
The testing engineer is supported by the voice response option of the SIT software.
The Site Characteristic Signal  
To distinguish reflections caused by the soil from that of pile defects, signals of individual piles have to be compared to Site Characteristic Signal. The Site Characteristic Signal represents all soil influences. Piles that show signals deviating from the Site Characteristic Signal are suspected and need extra analysis or additional testing.
The Allnamics-SIT presents signals of all individual piles against the Site Characteristic Signal.
Wireless monitoring avoids cable handling during onshore and offshore Dynamic Load Testing
ALLWAVE-SIT for Quantitative Interpretation  
In addition to the normal qualitative interpretation, AllWave-SIT is available for Signal Matching techniques to quantify detected defects. The results of the AllWave-SIT Signal Matching process are the dimensions of the pile.
Wireless monitoring avoids cable handling during onshore and offshore Dynamic Load Testing
Allnamics Training courses
Allnamics Academy offers training courses in low strain impact testing. Dedicated training courses for test engineers in how to obtain interpretable signals. And for consulting engineers in analyzing and interpreting signals, for clients and others who have to rely on pile tests in understanding the results and reports, including possibilities and limitations of pile integrity testing.
SPECIFICATIONS 
Allnamics-SIT-USB, the high-quality data acquisition system
Fast and Accurate
Sample rate 50 kHz
24-bit conversion
Class IP66 housing
Robust design
Intelligent sensor (USID)
In compliance with A

STM Standard D5882

, EA Pfähle 2012, CUR-Aanbeveling 109:2013, AFNOR NF P 94-160-2 and NF P 94-160-4.
Software program for monitoring, processing, and reporting included
Software  
Software program for monitoring and signal processing
Powerful Analysis tools
Professional engineering reports
Unlimited measurements per pile
Shows averages for piles and site (SCS)
Compares signals to Site Characteristic Signal (SCS)
Filtering and amplification of signals
Operates in metric SI or Imperial/US units
Support multiple languages (English, German, Spanish, other on request)
Voice response
Optional:

AllWave-SIT Signal Matching

software
ADVANTAGES
SIT-USB can be connected to any laptop or pc with a USB port
Efficiently reveals potential defects (i.e. major cracks, necking, soil inclusions)
Easy to use software for measuring, interpretation and reporting

Allnamics ON YOUTUBE
See also our YouTube Allnamics channel and YouKu Allnamics channel
Rapid Load Testing in Hamburg, Germany