Allnamics has been involved in the construction of two artificial islands for the bridge-tunnel-bridge connection between Hong Kong and Macau. Allnamics performed the vibratory driving predictions for the installation of tubular piles, 22 meters in diameter!
The Hong Kong-Zhuhai-Macau Bridge is a bridge-tunnel-bridge connection between these three important cities situated alongside the Pearl River Delta. Because of the scale and innovative character of the project it will certainly be one of the most prestigious objects of South China. Construction started in 2009 and the connection has been opened for the public in 2018.
To allow free passage of container ships to and from the South China Sea, a tunnel section, 6.75 kilometres in length, has been projected in-between the bridge sections. The transitions from bridge to tunnel and tunnel to bridge are implemented on artificial islands. Both islands consist of an oval shaped, sand filled, Cofferdam, each with 60 cells, in the form of gigantic tubular piles, 22 meters in diameter. The piles are interconnected by steel wings with a diameter of 11 meters. The wall thickness of the tubes is 12 to 14 mm. On the inside struts are welded in to prevent deformation.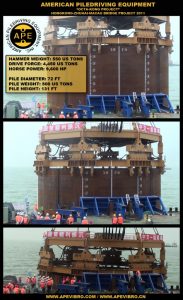 In November 2010 the companies APE (USA), Ape-Holland, Ape-China and Allnamics combined forces, to convince the Chinese contractor First Harbor Engineering Company of a solution with multiple vibratory hammers, operating as one, to install the 50 meter long steel tubes (22 meters in diameter and a mass of 600 tons each) 25 meters in to the seabed of the South China Sea. The soil profile consists of clay- and sand layers with SPT-N values ranging from 8 to 40.
Ape-USA and Ape-China were responsible for construction of the vibratory hammers and the logistics of the operation. Ape-Holland contributed specific knowledge on implementation and experience with synchronisation of the vibratory hammers. Driveability has been assessed by Allnamics' vibratory driving predictions, performed with in-house developed software, AllWave-PDP. This program is based on the method of characteristics for the propagation of stress waves in piles, of origin a Dutch development. For modelling the degradation of friction during vibratory installation (soil fatigue) an adapted Beta-method has been implemented.
On May 5th 2011 the first pile was driven 25 meters into the seabed in 7.5 minutes with the Ape "Octakong", which was in accordance with the vibratory driving predictions. On December 8th 2011 the last of 120 piles was installed to design penetration. Because of this innovative method, the project was 5 months ahead on the overall planning.